5 Things you Must Do Before Gifting a Quilt
This week, I sent a quilt off to a new home and it got me thinking about the little things I like to do with a quilt that I'm gifting.
NOTE: This post may contain affiliate links. You can read my full disclosure privacy policy here. Thank you.
I love giving quilts to people and want to make sure that it will be used and loved, not left on the side because they think it's too special. Quilts are made for snuggles and to give virtual hugs!
So, here are the five things I do before making and handing a quilt over to it's forever home….
1. Choose a Pattern
Sometimes a quilt is gifted spontaneously (you realise you have just the right quilt in your cupboard to give to a person….or is it just me with excess quilts?!) and other times it might have been weeks, months or even years in the making.
When planning a quilt for someone, a crucial part of the final pattern choice for me is how much it will be appreciated (for example, if they are not really into sewing, it's probably not worth making them an applique masterpiece!) and how it is likely to be used.
When I made a quilt for my brother and sister in law a couple of years back to celebrate their Wedding, we had a chat about styles, colours etc before I started making their quilt. That way I could surprise them with something that I knew they would love.
However, when I made a quilt for my brothers 40th – who lives a bit of a nomadic lifestyle – I went for a more basic pattern in darker colours with a fleece backing (I used this tutorial for a framed quilt using a layer cake of Moda Grunge Spots).
Although time was an issue with this quilt, it wouldn't have been worth making anything too tricky. And I needed to know that it would cope with a lot of wear and tear and infrequent washing!
Thinking about how a quilt will be used can also help you decide on how to finish the binding. For baby and charity quilts I will often machine stitch the binding so that I know it will be secure with all the washing it's likely to receive!
2. Add a Label
A quilt is a special gift that should last a lifetime and as someone who loves history, I think it's important to add some basic details for posterity.
When you see the fabulous quilts that have survived through time – such as the 1718 Coverlet – it helps to realise how important these little details are.
However, adding quilt labels is not always the most fun task. I for one still have a few that I need to do and I'm sure that I'm not alone?!
As a minimum, a quilt label should include who made it and when. You can buy personalised printed labels which are perfect for adding to a quilt if you don't like making your own. Some can even be sewn in with the binding, making them quick and easy to add.
Alternatively, you can write a label using a quilting pen. I don't do this often though as I'm never sure how well the ink will last over time?
When making label's, my personal preference is to add the recipient's name and – if it's for a special occasion – a little personal message.
I write the label using an embroidery transfer pen, and then embroider over the words, either by hand or with free-motion machine stitching. Or sometimes I'll use a combination of both like above.
Everyone has such unique writing that I think adding a hand-written label makes a quilt even more special. Like there's always a bit of you with the person. I've especially loved doing this for my children's quilt.
Other times, I use the alphabet feature on my machine to stitch a label, before slip-stitching it in position.
3. Give your Quilt it's First Wash
Chances are, that if your quilt is going to be used and loved as much as you hope it will be, then at some point in its life it's going to need a wash.
Also, washing a quilt gives it that lovely wrinkly, soft look and feel that we all love!
I don't know about you, but I always get a bit scared about washing a quilt – what if the colour runs and all my hard work gets ruined?! I remember being so nervous with my first ever quilt!
So, I always like to give my quilt a wash with one or two colour catchers (you can buy them here, and I've also seen you can now get these reusable ones, which I'll be getting when my stock runs low!) before gifting.
Most times, there is hardly any colour run. But other times I have been sooooo grateful that I did add in a couple of colour catchers!
Then, I can hand the quilt over safe in the knowledge that it can't be ruined, and the recipient doesn't need to worry about that first wash!
My general rule of using colour catchers is that I will use one unless it is particularly large. Then, if any of the following applies I will add two colour catchers just to be extra safe;
Lots of contrast eg. white background with a bright colour pattern
Red (which always tends to run a lot)
Dark colours (navy, black)
If I am running particularly late with giving a quilt (finishing the binding on the way to the party?!) I will include a couple of colour catchers when I wrap it up and ask the recipient to include them in the first wash.
4. Take a Picture!
This step is completely optional of course, but I like to take a picture of my quilts to share on here or Instagram, along with some details about size and any changes that I made.
Sometimes, when I'm starting a new project I might think 'oh, that quilt was a good size' and I love being able to go back through my pictures and notes to figure out exactly what I did easily.
5. Wrap with love
So, now you're ready to gift your quilt!
Everyone will have their own way of doing this, but I thought I would share mine, just in case you're wondering.
I fold the quilt right-sides together (so that the front is hidden), and have the label on the outside corner so that it's the first thing to be seen.
Depending on the size of the quilt and how it is being delivered, it's either rolled or folded, tied with a ribbon and placed in a gift bag.
A little hand-written note including care instructions if needed (or you can use these handy Gift Tas and Care Labels!) and it's all ready to be handed over.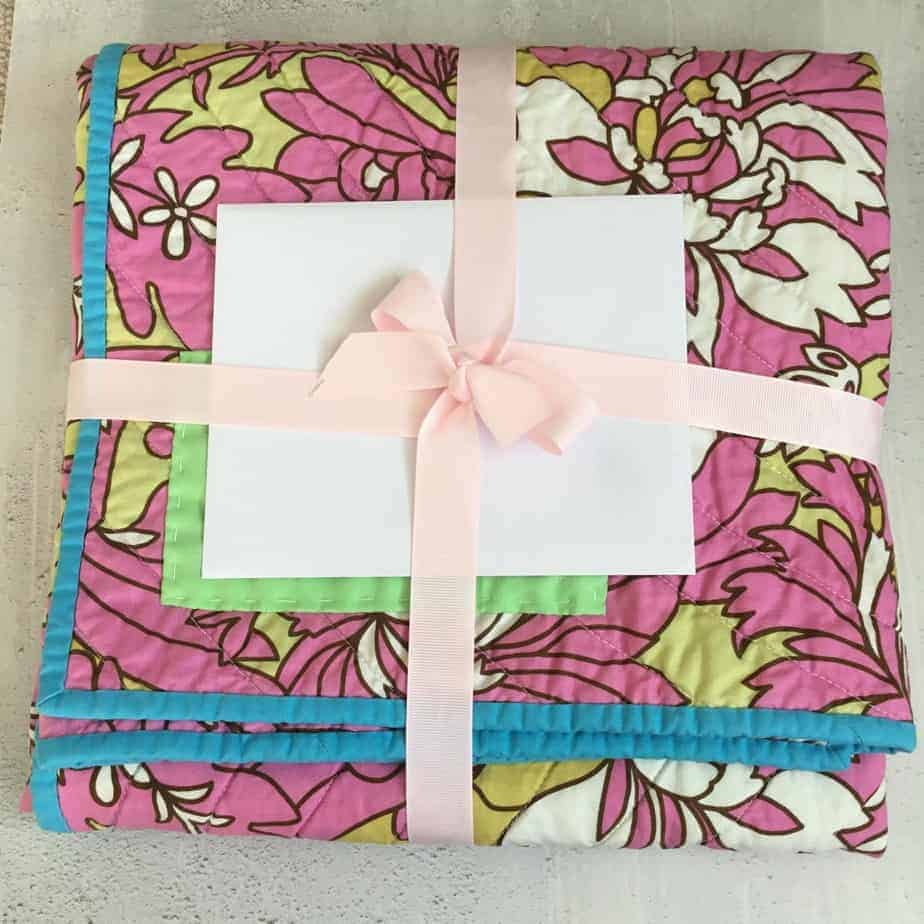 I hope you've found this useful…..is there anything else that you like to do before gifting a quilt to it's forever home?
S x
Today's sky::: overcast and grey. Again!!!
If you would like monthly news and updates, please sign-up to my newsletter.
To check out my quilt and accessories patterns, visit my Pattern shop.
For my favourite sewing equipment and tools, visit my Amazon store.